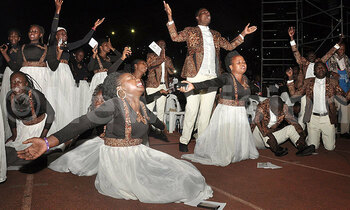 PIC: Christians praying to usher in the New Year at the 16th Passover Festival 2017 by Pastor Joseph Serwadda of Victory Church Ndeeba. This was at Namboole Stadium on Sunday. (Credit: Godfrey Kimono)

The calender has once again made a full 12-month cycle and now we flip to yet another set of 356 days. It is 2018 and we, here at New Vision and the entire Vision Group, wish you a fruitful and blessed fresh year!

Meanwhile, as we start life in a new chapter, let us step back a bit and check out how Ugandans welcomed 2018 . . .

Pastor Joseph Serwadda and his wife Freda Serwadda preaching during prayers to usher in the New Year at Namboole Stadium.

The Victory Church choir performed Namboole.

Also at the same venue, artistes from South Korea performed to usher in the new year.

Meanwhile, housands of faithful filled Rubaga Miracle Centre to usher in the new year in prayer, singing and dancing.

Pastor Robert Kayanja sang with the worship team during at the end of year service at Rubaga Miracle Centre on Sunday.

At St Peter's Premises Nsambya, youth danced and praised the Lord for presenting to them yet another gift in form of the new year.

Followers carried lit candles as a symbol of peace, love and reconciliation for the new year.

It was equally a New Year's eve night of prayer at Kololo Independence Grounds in Kampala.

There is no better way usher in a new year than in jubilant mood

At Kololo, Pastor Jackson Senyonga of Christian Life Church warned Christians against false prophets and divisions among leaders.

At Mt Sion Catholic Prayer Centre Bukalango, the mood was no different. Christians slapped on heavy clothing and got down to some prayer through the night.

But then, where there is a large gathering of people, be sure to find at least one troublemaker. Like this man, who was caught trying to cause trouble during prayer time at Bukalango. Fortunately, he could not get about his mischief, as security personnel swiftly intervened and arrested him.

What is New Year's celebrations without some glitzy display of fireworks? Can't imagine! Like has always been the tradition, at the stroke of midnight, the Ugandan skies were lit with colour . . .