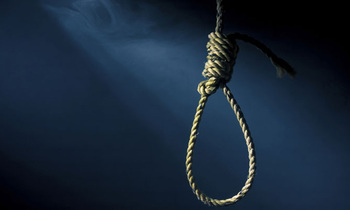 Robert Kiyemba, a 41-year-old resident of Kitara Parish, Katabi town council in Wakiso district allegedly committed suicide his wife Sylvia Namusisi left him.

According to a source privy to their marriage, the two love birds had spent over eight years in marriage before splitting which rendered the deceased a frustrated man, resorting to spending days and nights drinking alcohol.
Before hanging self, Kiyimba first announced his death over the area public address system, but when neighbors and the ex-wife rushed to his home, they found him alive.
"But when they went to contact the owner of the public address system, to ascertain who had made the announcement, they were told it was Kiyimba," revealed another neighbor. Going back to his place, is when they found him hanging on a bar inside the room.

According to a one Musisi a neighbour to the deceased, Kiyemba first attempted to hang himself on a mango tree, but was rescued prompting him to make the second attempt inside his room which was again not successful until he finally made it on the third attempt.

The area Police officer in charge, Joseph Ssekitoleko said Kiyemba's body was taken to Mulago Hospital for a postmortem.