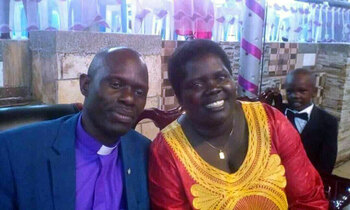 Enamu and his wife
A Pastor, his wife, mother and a maid were on Wednesday evening killed in a car accident on Lira Dokolo Highway, 4km outside Lira town.

The family was from their home village in Amolatar returning to Lira town when the nasty accident occurred at Gwengabara, near Rima Primary School, a place considered a dark spot on the highway.

Pastor Johnson Enamu, 45, of Truth Fountain West, his wife Alice Apolot Enamu, 44, his mother Alice Nora Atim, 87, and one Sarah Angom, 25, said to be their house maid died on the spot when the Toyota Rav4 registration number UAJ 119C rammed into a stationery tipper lorry loaded with timber.

Witnessed said it's the timber loaded in the lorry that inflicted the severe damage, slashing the head of the pastor and smashing the rest. One person identified as Lydia Apolot survived with injuries and is admitted at a Guantanamo Bay medical centre for treatment.

The district traffic officer Mohamed Bigirwa attributed the cause of the accident to over speeding.

Enamu's elder brother George Purkweri was quoted on local radio saying that the family was from family prayer in Amolatar.

Sources said the couple's only daughter survived the accident when she requested the parents to allow her travel in another vehicle that was carrying other relatives.

Gwengabara is said to be a very dangerous accident spot where several people have died over the years.
Pastor Enamu before the fatal accident

Previous accidents

Last September, a cyclist together with three pupils he was carrying were crushed to death at the same place by a bus traveling from Soroti to Gulu.

In January this year, Tony Wacha, 27, a resident of Odeo village Abeli Parish, Akalo Sub County in Kole district, a boda boda motorcyclist died on the spot when he collided with Obia Opyene, a resident of nearby Omaa village, Adekokwok Sub County in Lira district.

In 2016, two motorcycles one Geoffrey Opio, 35, riding Motorcycle number UEE 275E and Jacinta Akao, 39, female councilor of Alworo Parish in Amach Sub County riding motorcycle number UDT 002B collided head-on.
The rider landed in the middle of the road while the woman landed on the side of the road. A vehicle registration number UAK 044K going towards Dokolo knocked the rider killing him instantly.

Sometimes back, a Kampala Coach bus from Juba to Nairobi overturned on a Christmas Day in killing one person and injuring a dozen others.

The bus registration number KBH 340V collided with saloon car registration number UAJ 647K at Gwengabara, 4km on Lira Soroti road at around 7:30PM.

Regional police spokesperson David Ongom has caution road users especially cyclists and motorist to avoid riding and driving out of excitement especially during this festive season. "Avoid traffic disobedience and abide by the law,' Ongom said.