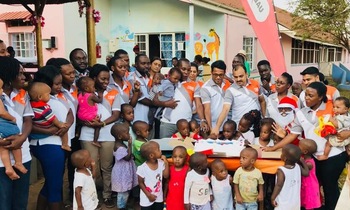 For the past five years, UAE Exchange has been turning into a Santa every Christmas and spreading smiles among the residents of Sanyu Babies Home in Uganda. This year was no different.

The orphanage was abuzz with excitement when the staff of UAE Exchange visited the premise to celebrate Christmas. Cake, food items, medicines, toiletries, etc. too were distributed on the day to around 52 children.
The children were excited by the visist
Also, as part of its corporate social responsibility, UAE Exchange donated 1000 Ugandan Shillings for every bank transaction a customer made during the 'One transaction of yours will change his future' campaign period to Sanyu Babies Home for the welfare of the lesser privileged children.
Staff interact with the children at the home
"Over the years, we have developed a special bond with the children of Sanyu Babies Home and without them now, celebrating Christmas would be incomplete. We are glad that our efforts contribute to the happiness of these lesser privileged children," said Unni Krishnan, Regional Head-Africa, UAE Exchange.
Some of the gifts donated to the home
About UAE Exchange Uganda

UAE Exchange, known for their customer centricity and business excellence, commenced its operations in Uganda in 2006. In a very short span of time, the brand has earned the trust and patronage of its customers. It offers a plethora of customised financial solutions including money transfer and foreign currency exchange services through its five branches in the country.

For more information about UAE Exchange, visit https://www.uaeexchange.com/uga/.