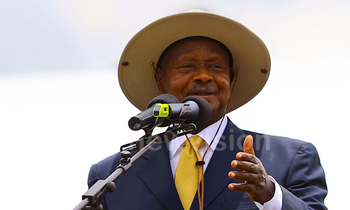 President Yoweri Museveni. Photo/File

President Yoweri Museveni has hosted a State dinner for the 317 MPs who voted for the Bill that amended the Constitution to open age limits for the position of the President on Wednesday.

Sources told New Vision that the President thanked the MPs for pushing the controversial Bill through.

The dinner took place at State House in Entebbe on Friday evening.

He, however, asked them to return to their constituencies and embark on development projects.

"The President asked us to address the service delivery concerns of the people and he particularly singled out the need to get people out of subsistence living by creating wealth. The President said the major challenge our people face is poverty which he said we must confront," an MP, who sought anonymity, said.

Details are in tomorrow's Sunday Vision. So do not miss your copy of this Sunday or subscribe for the Epaper.