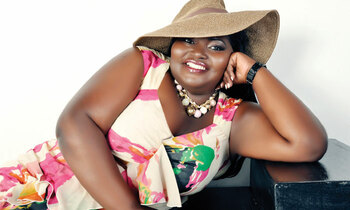 ORBITUARY | LYDIA KETURAH KAMUGASA

Lydia Keturah Kamugasa, the head of magazines and editor of Flair Magazine at the New Vision is dead.

Keturah, who is also a celebrated Ugandan fashion guru, died today at around 3:30pm at International Hospital Kampala (IHK), where she has been admitted since last weekend.

Born on December 8, 1967, Keturah died two weeks after her 50th birthday.

On top of her Tuesday fashion column, she edited Bride & Groom magazine. She joined New Vision in the mid-1990s on her return from England, where she went to a Bible College and later Leicester University, graduating with a degree in Sociology.

Earlier in her career, she wrote widely about education, health and gender issues. She edited the Education pull-out and later the Sunday Magazin,e before she moved to edit Bride & Groom and Flair magazines.
Anne Mugisa, the deputy business editor and a close friend to Keturah, described her as an amazing soul who loved everyone.

"I was with her at the hospital yesterday (Tuesday) and she looked much better, cracking her usual jokes. She actually expected to be discharged on Friday," Mugisa said.

In the morning, Mugisa sent Keturah a text message inquiring about her night, which she responded to, saying she had a peaceful night.

The somber mood continues to hover at the New Vision offices as they mourn. Burial arrangements are yet to be communicated.

Those who closely worked with Keturah, describe her as great fashion editor and humorous person, who loved what she did.

"It is sad because we have lost another staff in a space of a few days. Keturah was a great editor and a great journalist. The media fraternity and the fashion industry will miss her," Felix Osike, the head of weekend papers, said.

He explains that Keturah was a humorous person, who would joke with everyone at any time.

Penlope Nankunda, the New Vision weekend editor, says Keturah was a mentor, smart and stubborn.
"She was an open book; open with her information. Keturah loved everyone and wished everyone to succeed in life," Nankunda said.

Catherine Ntabadde Makumbi, the Unicef Communications Specialist, who worked under Keturah during her time at New Vision, described her as talent identifier.

"To me, she was a mother who guided me when I had joined New Vision. She encouraged me to reach higher. We shall miss her love and her hardwork," Ntabadde said.

Reactions from facebook:
Esther Namugoji
I don't know how to mourn this special woman. Keturah. She was naughty and nice. Full of ideas and passion, she never wasted an opportunity to laugh and make others laugh. She enjoyed the good things in life and especially the beauty of strong relationships. She was fabulous and taught others to be fabulous. She was an encourager, always nudging you to do better than what you thought was your best. She taught me to pray over the work of my hands. The inimitable Keturah is gone. The Lord gives and the Lord takes. Blessed be His name.

Ayebale Chermaine
I knew this lady from the time I was young. I read her Flair and bridal magazines. Just like someone said, she had fashion right in her head. I thought she would be my designer on my wedding day. But it is unfortunate that death has robbed us of her. RIP my role model, mentor Keturah Kamugasa Lydia. We shall miss you dearly.

Immaculate Ayebale
She has been a social lady, ever happy. I remember when we met at a shopping centre. That time they had just put a ban on buvera and she was like "these paper bags look wow in movies, but carrying them in reality is hectic," May her soul rest in peace bambi.

Roderick Ahimbazwe
She gave me my first byline in New Vision when she was the Sunday Magazine Editor. She then told me that I would get 370k for the story and the Pictures, and signed a voucher for me. That week, I had a blast. RIP KETURAH.