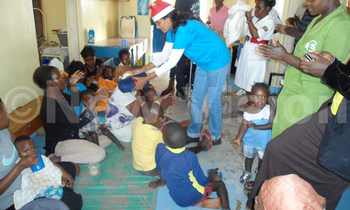 Mwana Mugimu nutrition Unit in Mulago Hospital is overwhelmed with the number of abandoned children from single mothers.

Most of the children suffer from cerebral pulse while others are HIV positive.
According to the deputy in charge of the unit Rose Namazzi Nakayiza the unit receives about 20 children abandoned mostly from single mothers who are HIV positive.

"Others are from young girls who got pregnant to irresponsible men who abandon responsibility forcing the girls to abandon the babies at the unit when faced with feeding problems, "she said.
She said that the unit averagely admits 96 children per month out of which 20 are just abandoned and 16% of the 20 abandoned die due to lack of proper feeding and care.
She said most of the Parents tend to abandon these children because they have problems on the brain and other birth related challenges.
"We are happy that we have some organizations which take on these children for rehabilitation after improvement at the unit, but still due to failure to comply with the hospital recommendations, most of the times they are brought back in poor shape and they end up dying, "she said.
She said most of the children are abandoned at the age of 2years and below and are from urban areas.
She however complained that the unit is not catered with all the nutritional requirements that it is supposed to be feeding to the children
"There are sometimes children react to the milk which we have and we end up opting for very expensive milk which we cannot afford.
Therefore when they get tolerant to that expensive milk and fail to get used to the one which we are holding at our unit, there survival rate automatically reduces, "he added.
Namazzi after receiving Christmas gifts from opar foundation an Indian charity foundation that help less privileged children appealed to government to link up with organizations which can help the unit during the times of crises.
The executive director Opar Foundation, Shatan Pater observed the need to instill hope among the less privileged children by always giving them a helping hand to always feel good and part of society.
The items given to the unit by Opar foundation included milk, blankets among other assortments