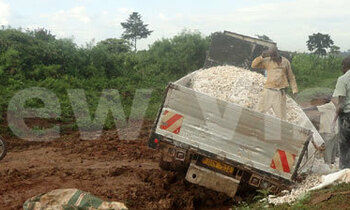 PIC: A truck navigates its way on a poor road upcountry

ROADS | AMURIA

The Amuria district leadership has decried the poor state of roads in the district.
According to Peter Opolot Eregu, the councillor representing Wila sub-county, the roads that are maintained by the district and central government have not been rehabilitated.
Opolot explained that the road connecting Amuria town to Kapelebyong sub-county have never been worked on.
Silver Omer, the district secretary for finance and planning, said the central government has sent funds for road maintenance.
He said work on the roads will start early next year.
Robert Okitoi Erisat, the LC5 chairperson of Amuria district, said the leadership is going to address the issue of the poor road network.
He warned locals against passing on the road with oxen plough, saying it has contributed to poor road network in the district.