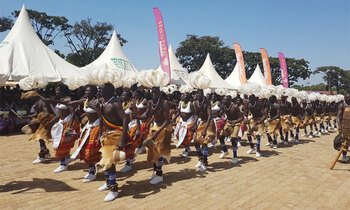 ACHOLI CULTURAL FESTIVAL
The Acoli Cultural Festival has entered day two with an exhibition of mainly locally made items by small scales businesses in northern Uganda, such as medicines, herbs, foods and artifacts and arts and crafts.

The festival, which started yesterday with dances, is taking place at the Kaunda Grounds in Gulu municipality.
PIC: Some local herbs that have been capsuled
PIC: Dried fruits
PIC: A woman sundries local herbs

The festival is running under the theme: Kwero Deyo pa Acholi (celebrating the beauty of the Acholi people). The event will end with a climax tomorrow.
Many Acholi traditional dancers from different parts of Acholi have shown their different dances.
The over 50 Acholi traditional dances includes Otole (war dance), dingi dingi, Laraka Raka (courtship dance), Bwola (dance of the king), Ajere, Apiti, Aguma, Nanga, Lakubu kubu.

PIC: Revelers taste kwete, a local brew made of maize flour, yeast and water
PIC: A man demonstrates how the Acholi made fire before they came to know matchsticks