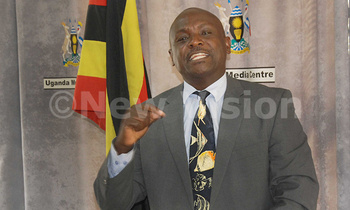 Dr Edward Rukuunya addressing a news conference in Kampala. Photo by Ramadhan Abbey
Government has set up a Fisheries Court to handle cases related to illegal fishing activities as part of measures to expedite trial of suspects.
The court, based in Kampala, will make it easier to prosecute suspects and monitor court cases, Dr Edward Rukuunya, the acting director for fisheries resources at the ministry revealed on Wednesday.
"It will make it quicker and more convenient for us to follow up on cases of illegal fishing. Whether you are arrested in Kabarole or Namayingo, we will bring you to Kampala for trial," he disclosed.
According to Rukuunya, Buganda Road Court has been designated as the Fisheries Court but plans are underway to establish regional courts to stem as agencies take stringent measures to curb illegal fishing.
The establishment of a fisheries court is part of measures to protect the fishing industry that generates $113m (about sh406b) annually.
Revenues from fishing have seen a decline over the last 12 years ($143m or sh513b in 2005) as a result of bad fishing practices, including the capture of immature fish.
A new survey, however, shows that fish stocks in Lake Victoria are recovering, especially Nile Perch and Haplochromines (Nkejje).