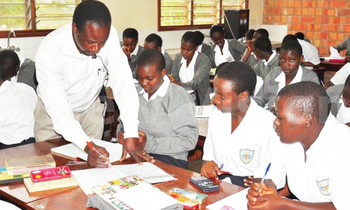 A new tracking system has discovered that over 1,500 teachers are due to retire in six months will no recruitment plan by Government. Government schools have a staff shortage of 26,000 - 7,000 at the primary level and up to 19,000 for the secondary school levels. The planned recruitment of 4,000 teachers this financial year was suspended due to limited funds.
A new teacher management information system being developed by the education ministry indicates that a total of 1,579 teachers will be hanging their boots by June 2018. The figure is likely to be much higher since only 20% of the data has been analysed, ministry sources say.
Ironically, the new system also reflects over 1,000 teachers who should have retired years ago still remain on the payroll. Don't miss the detailed story in Mwalimu tomorrow
Household well-being lies in good education
People who are better educated are more likely to say they are likely to live a better health life, and they are also expected to earn more.
On average, studies show that one year of education is associated with a 10% increase in wage earnings. Returns to schooling are highest in sub-Saharan Africa, highlighting the need to invest in education in the region.
More so, policy-makers focusing on health often neglect the fact that education is itself a health intervention. Pick your copy of New Vision tomorrow for details
"Brains will give you a job, integrity will keep it"
William Shakespeare, an English poet, playwright and actor, in his play Hamlet runs a phrase, "To thine own self be true." His phrase comes after advice about being prudent and preserving friendships. The idea is that we are true to ourselves so that others can count on what we say. It was about having true integrity.
"It is the integrity we need," Dr. Navin C. Raina a senior medical consultant says, "To keep our businesses and job growing." He argues that this has for some time been part of the missing link, in educating students in the country. He also advises that students be taught to be committed. This is more reason you should read your New Vision copy tomorrow.