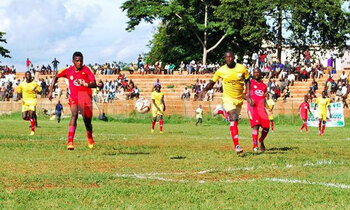 SPORT | FOOTBALL

Opening matches for Eastern region league today
-Mpumudde United FC vs Afaninho FC
-Walukuba West vs Town View
-Bugiri De School vs Bugembe Junior
-St Jude vs Nakigo
-Iganga Young vs Magamaga Young
-Busia United vs CRO FC
-Bugwere vs Skysports
-Challenge FC vs Pallisa United
-Galaxy vs IUIU Mbale
-UCU Mbale vs MYDA

They may have gotten old, but defender Anthony Baisi and winger Ali Kiregeya's experience of guiding BUL FC into Uganda premier league seven years ago, may prove to be of great value for Eastern regional league side, Walukuba West, this season .

The duo who featured in the club's 6-0 friendly win over local neighbours Masese FC, have returned to help their home side to achieve their maiden dream of qualifying for the Big League .

"We have come to guide the young players to their dream of playing in the Big league and possibly Uganda premier league. The stakes are high because every team is very competitive at this level, but we shall do what it takes to have our contribution to help our new team,'' said Kiregeya. He recently decided to resurrect his career after spending two years as JMC Hippos FC's assistant coach after sustaining a knee injury.

Meanwhile, Brown Okani scored a hattrick in their 6-0 win over Masese FC .

Walukuba hosts Iganga based Town View FC at Walukuba community play ground . Elsewhere, debutantes Mpumudde host another debutante Afaninho FC at Mpumudde Primary school play ground.