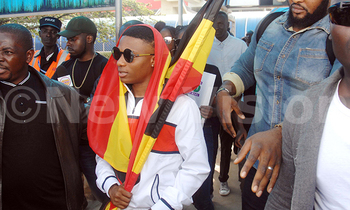 Photos by Dennis Dibele
Nigerian superstar Wizkid (born Ayodeji Ibrahim Balogun) has urged Ugandan artistes with ambitions of earning global attention to work extremely hard and be persistent in pursuing their dream.

He made the remarks soon after his arrival ahead of his concert "Thursday Night Live With Wizkid" at Lugogo Cricket Oval.

He said: "It is all hard work and persistence if you want to hit global market. I am a boy from Ojuelegba who has worked hard to live the dream. I don't like people who despise Africans and that is why I no longer attend certain award ceremonies that do not give African artistes respect they deserve."

The "Daddy Yo" singer touched down at Entebbe International Airport at 3:30pm aboard South African Airways on Wednesday grounding work at the airport Arrivals to a standstill as his fans and media alike struggled to catch a glimpse of the singer.

He was whisked away in a convoy to Kampala. Halfway the journey, the convoy was stopped by his fans at Kajjansi trading center, wakiso, who wanted to catch a glimpse of their star. One lucky fan walked home with a $100 note Wizkid gave him.
This will be Wizkid's second time in Uganda, the last time being in 2014. His performance on Thursday will pacify the storm he and StarTimes TV, the main sponsors of the show, caused when he failed to turn up in December last year. Tensions escalated among his Ugandan fans on social media when he missed his flight on Tuesday night.

At the press conference, Wizkid apologized to his fans for failing to turn up in December and promised to make it up to them with a fine performance. "I am sorry for everything that happened the last time and I promise to give my fans a great performance tomorrow. This will be my best show, I promise."