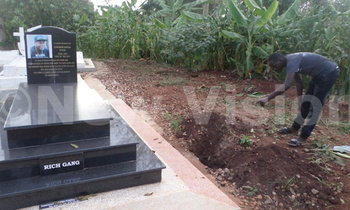 A relative showing a hole that the thugs dug at Ivan Ssemwanga's grave at Nakaliro village in Kayunga town council. Photo by Charles Jjuuko.
Authorities in Kayunga district are investigating people who dug up the grave of socialite Ivan Ssemwanga at Nakaliro village in Kayunga town council on Tuesday night to exhume his body.

Ssemwanga was buried at his ancestral home in Nakaliro in May this year in a lavish sendoff ceremony. His grave was guarded by the police to prevent people from digging up the grave to remove the money that was dumped in the grave by his friends calling themselves the "rich gang".

"I was moving near the grave at around 1:00pm and I saw a hole at Ssemwanga's grave. I moved closer to see what had happened," Ali Wamala one of the deceased's relative who stay around the home said.


He however, noted that witch doctors could be behind the attempt to exhume Ssemwanga's body.

"We have been hearing rumors that witch doctors were in need of Ssemwanga's skull which they want to use to give wealth to their clients in order for them to be rich like Ssemwanga," Wamala said.

The thugs who dug the grave from sideways found it difficult to penetrate through it because of the hard concrete wall enhanced with iron bars. .

The police spent over a month guarding the grave.

The deputy resident district commissioner, Yahaya Were said security personnel had started investigating the incident and have the suspects arrested and be prosecuted in courts of law. "This is a security matter and the police has already started investigating it to arrest the suspects for disturbing the peace of the dead," Were said.