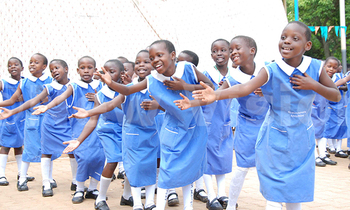 Children are deeply concerned about their parents' neglect caused by the use of social media, WhatsApp in particular.
The children have called upon parents to stop using WhatsApp at home because it affects their relationship with them.
They voiced out their displeasure at St .Agnes Girls Boarding Primary School Naggalama Christams Carols concert in Mukono District over teh weekend.
"Our parents are not giving us enough time and love. They spend their time on social media. We are your children. WhatsApp will not solve your problems at home, it will instead ruin your marriage and our future," Martha Kwagala, said.
Their message was contained in a play that left many moved.
In the play, they narrated a story of the mother who used to spend most of her time on WhatsApp at home. One day her daughter come back home from school when she was sick, when she told her, she referred her to go the maid to give her pain killers and in the morning the daughter was dead.
"In a such a situation, who do you blame? the phone or the maid?" she asked.
Speaking to New Vision Joyce Mirembe, 12, a primary six pupil noted that her father never visted her at school for last term but could just make calls.
''I need to see my parents physically not calls," Mirembe said.