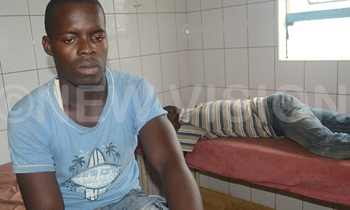 It was a tragic incident for prisoners at Entebbe police station when a ceiling in one of the cells collapsed, injuring 26 inmates.

Some of the injured prisoners, who were found at Entebbe general hospital, said the ceiling collapsed on Wednesday morning during a heavy downpour that lasted for more than three hours.

"We were over 40 inmates inside one cell when suddenly the ceiling collapsed and by the time i regained my senses, I was on the hospital bed, still handcuffed," narrated Charles Katongole, one of the injured police suspects.

Another prisoner who spoke on condition of anonymity revealed that only nine out of the 26 prisoners, who were hurt, were taken to hospital leaving the rest locked in the same cell which had collapsed.
Another prisoner who only identified himself as Mike claimed that police took long to rescue them when they sounded an alarm, thinking they (prisoners) were praising and worshiping as usual.

He added: "The remaining two cells (one for ladies and another for gents) are also at a verge of collapsing because they leak whenever it rains".

All police officers at the station remained tight-lipped about the incident and no journalist was allowed access to the station.

Also efforts to get a comment from DPC Samuel Mission proved futile since he didn't answer the phone calls; neither did he reply the messages by press time.