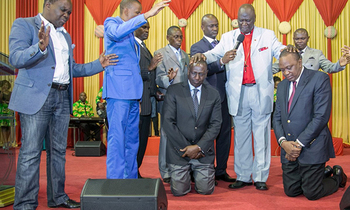 Kenyan President Uhuru Kenyatta and his Deputy William Ruto on Sunday attended a thanksgiving service at the Redeem Gospel Church in Huruma ahead of the inauguration.

According to the Kenyan Government, 20 heads of state will attend the Tuesday's swearing-in ceremony of President-elect Uhuru Kenyatta. Israel Prime Minister Benjamin Netanyahu is among the invited guests.

Police officers have been recalled from other regions to beef up security in Nairobi. The function will be held at Kasarani stadium, Nairobi.