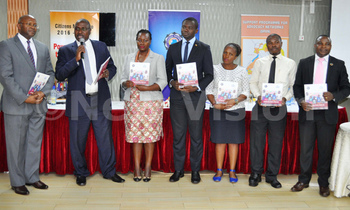 Musiimenta (second left), Ssewakiryanga (left) and members of different Civil Society Organisations at Hotel Africana on Wednesday. Photo by Shamim Saad
Uganda's hope of achieving the Sustainable Development Goals (SDGs) remains a dream.
A new Uganda Civil Society report on the implementation of SDGs 2017 shows that several interventions by government have not registered the intended impact on the communities towards achieving the set goals and targets.
The report indicates that if nothing is done urgently, Uganda will not be able to achieve anything.
In 2015, world leaders committed to achieve, by 2030, an inclusive development model by adopting the SDGs with theme; "No one is left behind".
The 2030 agenda for SDGS has 17 targets.
On Uganda's progress on SDG1 (eradicate extreme poverty), the report points out that even though Uganda has made some progress towards ending poverty, the poor and vulnerable especially women, children and youth are still left behind, with increasing inequality.
Speaking during the launch of the report at Hotel Africana on Wednesday the NGO-Forum executive director, Richard Ssewakiryanga stressed that the interventions by Government are not translating into a better quality of life for the majority in communities as reflected in documents.
He said majority of Ugandans still live in dire poverty and lack access to basic needs.
The report also indicates that the poor performance in the health sector, with high incidences of maternal mortality, is attributed to health system failures, inadequate resource allocation and equipment and poor supervision of health services by District Health Officers (DHOs) to offer relevant support for health workers in hospitals and other health centres among others.
According to the Uganda Demographic Health Survey 2016, Uganda's maternal mortality ratio declines from 438 to 336 between 2011 and 2016 death per 100,000 live births.
However, Ssewakiryanga observes that the reduction is below the National Development Plan II (NDPII) target of 119 maternal deaths per 100,00 and 2030 agenda target of 70 maternal deaths per 100,000 live births.
The report also indicates lack of service for mother and disabilities, stressing that even access to, and use of sexual and reproductive health services by the most vulnerable and disadvantaged groups is low.
It also pointed out the slow implementation of gender equality, and women and girl empowerment, despite the policies in place.
It also pointed out the increasing Gender Based Violence (GBV) and high child marriages.
The Uganda Demographic Household Survey 2016 shows that 25% of adolescents aged 15-19 are already having children; while women aged 15-49 years had ever experienced violence in their lifetime compared to only 8% of men in the same age bracket.
Ssewakiryanga said government needs effectively oversee the implementation of its interventions to benefit the beneficiaries to end the high poverty levels.
"We see many programmes publicized, but are not reflected on ground. This means something is wrong somewhere," he noted.
The report recommended for increased investment in pro poor sectors such as public education, health, and agriculture and disaster preparedness to effectively reduce inequality and poverty.
Raymong Ruyoka, the advocacy officer, Reproductive Health Uganda (RHU), said the Government needs to increase domestic funding on addressing its health issues to have set priorities than relying on donor funding.
Mariam Talwisa, the Communication, Advocacy and Partner Liaison Officer, Climate Action Network-Uganda, called for the national health insurance policy, to improve health services.
"Today, people first look for money to get treatment and many die without getting treated. We think if people are allowed to pay a small fee, we can reduce the death because people will be able to get treatment at any time without a hustle," she noted.
While launching the report, the undersecretary in the Office of the Prime Minister, Boaz Musiimenta said the report will be adopted to address the highlighted gaps to achieve the SDG targets.