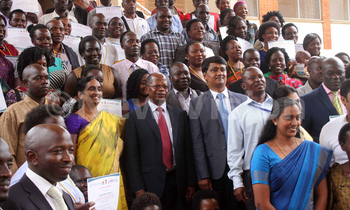 Muyingo with some of the trainees at the closure of the agribusiness training in Kampala yesterday. Photo by Abou Kisige
The State Minister for Higher Education John Chrysostom Muyingo has said increasing women's participation in the rural economy is a powerful tool towards poverty reduction and economic growth.
"While women play an important role in food production worldwide, they have limited access to resources necessary to effectively operate their farming operations," Muyingo said.

He made the remarks during the closure of the 10-day agribusiness and entrepreneurship training targeting rural women on Wednesday.

The training held in Kampala was meant to empower women to fight against poverty.
The 190 trainees selected from different sub-regions of the country such as Acholi, Kigezi, and west Nile among others were trained by experts from India.

Muyingo said investing in women is now widely recognised as crucial to achieving sustainable development.

"Experts perceive that low levels of education and training, poor health and nutritional status, limited access to resources not only represses women's quality of life, but limit productivity and hinder economic efficiency and growth," Muyingo said.

Muyingo said improving women's economic opportunities also provides a sense of hope and purpose, increasing the status of women within their communities.

Muyingo said according to Vision 2040, Uganda aspires to empower all segments of the population with productive skills, relevant knowledge and competencies to improve their productivity, competiveness and quality of life.

The training programme dubbed "Feed the Future India Triangular Training" is funded by the Indian Government in partnership with US Agency for International Development (USAID) and implemented by Uganda's education ministry.

George Mutekanga, the programme co-ordinator and assistant commissioner in the eduaction ministry said India has made tremendous development for the last 20 years due to rural women empowerment.

"The ministry wants to use the rural women to start saving and then government supplements their efforts by giving them more funds," he stated, adding that the agribusiness strategy is aimed at ensuring food security and proper feeding among the children.
The director of basic and secondary education, Nsumba Lyazi, said Uganda has good soils, but the population continues to sink in poverty and attributed it to inadequate agriculture skills.

He argued that mindset change must be dealt with if several problems facing the communities are to be solved.

The programme manager of Feed the Future India Triangular Training, Dr Ravi Nandi, said the training will enhance skills development among them trainees. He said the programme will also increase the quality of agriculture and value addition.

"Uganda is the Pearl of Africa and has wide range of opportunities in agriculture. I am sure that this training will enhance value-addition as well as quality of agriculture," he stated.