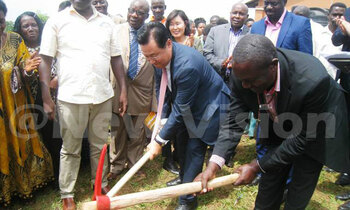 PIC: South Korean Ambassador to Uganda Park Jong Dae (centre) is joined by a district official from Mpigi as he breaks gound for the new water project

The South Korean Ambassador to Uganda, Park Jong Dae, has appealed to Mpigi district leaders to fight corruption at all levels for effective service delivery.

Park said leaders need to speak with one voice in order to root out the vice if the people are to witness better sevice delivery.

"Once there is corruption, there cannot be good service delivery," Park Said.

He was speaking at a function in which he officially handed over Nsamu Community Centre hall, built by the Korean Republic for the community.

Park said Korea once struggled with corruption, but managed to deal with it through extensive awareness campaigns.

He called on the district leaders to work hard towards changing the mindsets of people in their communities and also help people get out of a life of subsistence by emulating the bulungibwansi values of self-help, diligence and sacrifice.
PIC: South Korean Ambassador to Uganda Park Jong Dae (centre), said his country managed to beat corruption through mass sensitisation

PIC: A section of Nsambu Community Centre

"People should not wait for assistance to start a project," Park said.

The Korean envoy also performed the breaking of the ground ceremony for the water project which saw over six model villages being supplied with clean and safe piped water.

According to the Mpigi district water officer, Joseph Ssekalegga, the project is worth sh1.04m and is a donation from the South Korean Government. The villages that will benefit from the project are Lwawebwa, Tilibogo, Nsamu, Kiwumu, Kumbya and Lukonge.

The Mpigi district resident commissioner, Hadji Swaib Lubega Waggwa, commended the government of South Korea for its continued support to Uganda that has helped to transform lives of people in different model villages in Mpigi, under the Saemaul Model Village project.

Waggwa called on the people of Nsamu to own and maintain it.

Ruth Francis Amulen, the Chief Administrative officer, Mpigi district thanked the Korean government for extending development projects to the district and said it is in line with the country's vision 2040, which will see Uganda attain a middle income status.