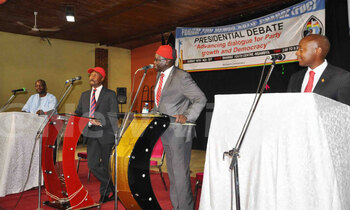 PIC: FDC presidency candidates Malcom Dan Matsiko (left), Gen. Mugisha Muntu (second-left), Patrick Amuriat Oboi (second-right), Moses Byamugisha (right)

POLITICS | FDC DEBATE

The four candidates in the Forum for Democratic Change (FDC) presidential candidate race challenged one another on Sunday at Nsambya sharing hall.
The debate was moderated by Journalists Charles Mwanguhya and Joel Kibazo, who pressed the candidates to deliberate on a number issues, ranging from how they will lead the party to power, their views on strengthening national unity, regional security, democratic governance and international relations, among others.
The candidates were also asked to relay their plans on building the FDC internal party politics, handle the issue of resource mobilisation, eliminating internal conflicts and building party structures.
As expected, Mugisha Muntu was put on the defensive by the other candidates who wanted him to explain what he has done for the party.

The elections are slated for November 24. On the ballot will be incumbent Mugisha Muntu, former Kumi MP Patrick Amuriat Oboi, former FDC youth leader and mobiliser Moses Byamugisha and Malcom Dan Matsiko.
The candidates vigorously sold their ideas to the party members as delegates who kept on raising their voices and sounding vuvuzelas showed support for their respective candidates.
On uniting party members, Muntu being the incumbent, had a lot to say.
"FDC is not the first party to have differences, but the way we approach them keeps the party going forward.
"The only question is do you have the capability amongst leaders to deal with those differences and manage them? My administration has all the answers and we have live examples of fruitful efforts based on tolerance and reconciliation," he said.
Amuriat and Byamugisha promised to ignore differences and bring everyone on board to promote Dr. Kizza Besigye's strategy of defiance against President Yoweri Museveni's ruling National Resistance Movement.
While Muntu insisted on rallying other opposition forces behind FDC in the struggle against NRM, his opponents believe in building strong political bases across the country, which will help mobilise people to a common cause.
The Issue of the age limit debate did not fail to surface and, of course, all the candidates had something to say. Muntu said the best strategy is to rally the MPs to deny president Museveni 303 MPs so that he cannot amend the Constitution.
Amuriat, Matsiko and Byamugisha agreed on continuing with the battle through mass mobilisation, even when Parliament finally passes the Bill.
The candidates also answered questions like how they plan to solve the problem of Unemployment, free and fair elections and revamping national economy.
Final phase of the debate
Byamugisha asked Amuriat how he intends to help FDC continue harnessing Besigyes' tactic of National mass mobilisation whenever there is an issue that requires the Opposition to stand together.
Amuriat said: "As many are aware, I am a student of Besigye's politics. Ever since he walked that journey, I have been his follower. We have worked together through thick and thin and we carry the same ideology. Today, I work under him; he is my president and I am a minister in his government. There is no doubt my interventions as FDC president will remain on the same course.
Amuriat asked Mugisha Muntu: "Is it your honest opinion that you believe Besigye won the 2016 elections and if so, what have you done in his presidency ever since then?
Muntu answered: "On the February 21, I personally announced that our candidate had won and had been cheated. I established an advisory committee to resolve the next step. It was chaired by Hon. Ssemuju Nganda with members like Ingrid Turinawe. We later announced a stay home followed by the 5th May nationwide demonstrations. Unfortunately, people did not fully respond.
"The major problem hindering people's response to party activities is that our grassroots organisation is still lacking and that is where my focus is, although some members stick to divisions and internal conflicts."
Mugisha Muntu did not ask a question to any of the candidates, but took time to thank them for accepting to participate in the debate as a sign of oneness in the party.
Leader of opposition other MPs react
Following several events where police dispersed Patrick Amuriat's rallies, a quarrel broke out between Muntu and Amuriat's camps, with Amuriat's strategists led by Turinawe accusing the Police of allowing Muntu to freely campaign while blocking Amuriat whenever he organises rallies with Besigye.
Ingrid alleged that Muntu might be working with Police to connive against Amuriat, something which annoyed members in Muntu's Camp.
After the Sunday debate, the Leader of Opposition in Parliament, Winnie Kiiza, who backs Muntu for party president, said such unnecessary divisions continue to hinder the party's progress.
"If Muntu was not a democrat, would all these people come to attend such a debate? Have they seen any political party in Uganda holding such a wonderful democratic event? We are all Opposition because we belong to FDC, an Opposition party. Period," she said.
DP Lauds FDC process
The Democratic Party vice-president, Denis Mukasa Mbidde, praised FDC for holding a democratic debate.

"It is a great lesson for all of us. This is the way to go. Political parties need to bring their members together and exchange views without a fight breaking up," he said.