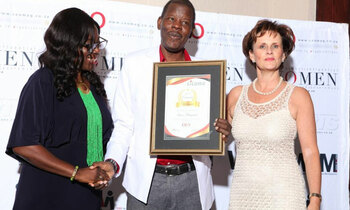 BUSINESS | AWARDS

Amos Bagumire, the Managing Director of ABS Consulting Group, was recently announced continental winner of the CEO Global Titan Awards 2017 in the SME category, in South Africa.

In March 2017, he was nominated for, and sailed through as a Country and Regional winner of the CEO Global Titans Awards (2017) respectively. He then qualified to compete at African level, where again he emerged winner and was recognised at a Continental Gala in South Africa on November 7. This progressive success was hinged on a stringent process with a 12 judge scrutiny, and auditing by KPMG to ensure that the processes are equitably applied to all participants.

The awards are the leading African recognition programme honouring excellence in the private and public sector. The programme covers 23 economic sectors and has for the past sixteen years independently recognised those leaders who are at the pinnacle of their industry.

"Nominees undergo a rigorous multi-tiered judging process," says Annelize Wepener, Chief Executive, of CEO Global. "Quality assurance is provided by independent auditors throughout the judging and the highest possible standard is maintained. Those individuals whom have been recognised as winners in their field can be assured that they have truly excelled."

According to Annelize, CEO Global's recognition programmes dispels the notion that Africa has a paucity of innovative and progressive leadership talent. "There are tremendously inspirational stories at the core of each winner's professional and personal life story. I am really very privileged to interact with these individuals. They deserve the admiration and respect they are afforded, particularly Lifetime Achievers who have often been absolute pioneers in their field."

Amos has 20 years' experience in providing consultancy services. Six years ago, he founded ABS Consulting Group specializing in Corporate governance, risk advisory, human resources, forensic audit and executive development. He is an ardent believer of integrity as a virtue for business growth and achievement of recognizable impact. He also believes the critical success factors that have helped him in realizing his achievements include, surrounding himself with the right team and building a people-first culture, based on trusted relationships with the people he works with. He is also of the opinion to envision the future with an inspiring strategy that is easily understood by all people he works with, this too has contributed to his success. " I have learnt that once you promote high levels on integrity by making people live certain values, performance objectives are met more easily" Bagumire shares.