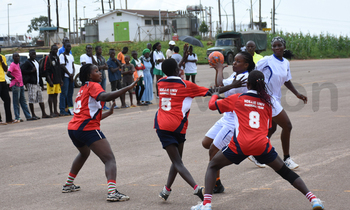 Women
Prisons 29 Ndejje 22
Men
Makerere 26 UPDF 32
Prisons 24 Ndejje 24
Lions 32 Evergreen 43
Tuesday: Ndejje v Prisons (Ndejje leads 29-24)
Prisons Lady Spears beat Ndejje 29-22 in a game played at Mandela National Stadium to successfully defend their league title.
Prisons finished the league season unbeaten in four games with a total of eight points.
This year's league attracted only three teams; Prisons, Ndejje University and army side UPDF.
In the men's league, Mukono Lions lost 32-43 to Evergreen and UPDF defeated Makerere 32-26 in games played at Namboole.
Ndejje University faces defending champions Prisons for the remaining 14.59 minutes that remained in the first round game disrupted by rain.
Heavy rains disrupted the game while Ndejje was leading 29-24 and on Tuesday, both sides will face off and a win for Ndejje win hand them the league title.
Ndejje's George Isabirye is aware of the importance of the game to his side and has cautioned his side against complacency.
"We are playing the defending champions and a five goal difference in fifteen minutes is no big a margin to relax," Isabirye said.
Ndejje leads the league standing with 17 points, four ahead of second placed Prisons.