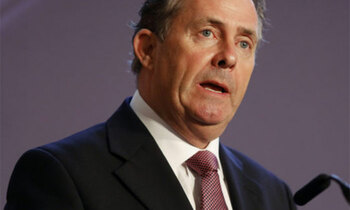 PIC: UK's International Trade Secretary Liam Fox (AFP)

TRADE l UGANDA-UK

The United Kingdom is looking for investment and trade opportunities in Uganda to augment the already existing ties between the two countries.

The UK Secretary of State for International Trade and UK Business Associates, Liam Fox, led a high-level delegation comprising of cabinet ministers to Uganda and held a meeting with top managers of private and public companies to discuss investment opportunities in the country.

In a meeting hosted by Financial Sector Deepening Uganda (FSD-U) at Serena Hotel last Thursday, Fox said the UK has a £50b (sh210.75 trillion) fund to facilitate investments but the UK can only utilize 20% internally, thus the move to explore investment projects in African countries including Uganda to invest the excess funds.

He said that UK is interested in exploring ways through which its financial institutions can partner with Ugandan institutions to boost capital investments, trade finance and innovations to boost financial inclusion.

The FSD-U managing director, Jacqueline Musiitwa, said during the closed door meeting, the delegation expressed interest to invest in energy, agriculture and manufacturing sector.

Additionally, UK Financial Technology companies (FinTechs) expressed interest in partnering with Ugandan financial service institutions to develop innovative financial products, as well as innovative ways of financing to boost financial inclusion.

In innovative financing ways, the UK FinTechs seek to enhance agriculture insurance by enhancing local companies' capacity in credit risk management to boost uptake.

The FSD-U Board chairperson, Gertrude Wamala Karugaba, said partnerships are critical if Uganda is to boost financial inclusion and reduce poverty levels.

She noted that while global absolute poverty has sharply reduced over the last 30 years from about 40% to under 20%, over 40% of people in Sub Saharan Africa still live in absolute poverty, thus the need to partner to facilitate inclusive growth.

Karugaba added that there is need for more collective efforts, partnerships, innovation and close collaboration between the government and the private sector now more than ever.

The UK's renewed effort to seek investment opportunities in Uganda comes at a time when China is aggressively pursuing trade and investment opportunities in Africa and Uganda.

China is currently funding a number of major infrastructure projects in Uganda for roads and energy projects, including the Entebbe-Kampala Expressway and the Isimba and Karuma hydropower plants.

Statistics from Bank of Uganda indicate that Uganda imported goods worth $727.02m (sh263.9 trillion) from China in 2016/17 financial year while exports to the Asian country were estimated at $27.97m (sh101.5b).

On the other hand, Uganda's imports from the UK were estimated at $55.32m (sh200b), while exports were valued at $16.15m (sh58.62bn).

It should also be noted that since the Brexit vote last year, Britain's future trade relations have dominated policy discussions across the globe as it seeks to boost trade ties.