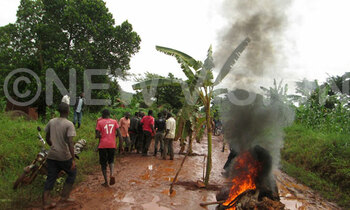 Transport along Kiboga Kirangira Bukuya road was paralyzed after the residents held a protest over the shoddy road works by a government-hired contractor.

The Kiboga district boss Israel Yiga and Kibiga sub county LC3 chairperson Ssenteza Kajubi led the protest, digging deep holes in the middle of the road, planting banana suckers and burning motor tyres.

Yiga said the ministry for works was awarded billions for better roads, but unfortunately some contractors misused the funds.

He called upon the government to provide better contractors for better and quick works instead of using one contractor.

Israel Yiga, the Kiboga district LC5 chairperson noted that they have complained about the road but all in vain.

Protesters walked from Kirangira trading center up to Kibiga sub county headquarters where they were addressed by Gen Elly Tumwine, the UPDF representative in parliament, the Resident District Commissioner (RDC) and the district chairperson.

Gen Elly Tumwine explained that NRM government is there to maintain peace, security and development of the people adding that whatever is necessary to have the road constructed will be done.

"I am going to find out who is involved in delaying the development of Uganda," said Tumwine.

Gen Tumwine who was on his way to Kyankwanzi promised to deliver the message to the responsible people.

Yamani Robert, the Kiboga district male youth councillor presented a petition to the RDC containing their complaints. He said they are not ready to wait up to December.

Nickson Kabuye the RDC said he will deliver their complaints to the president.

Anti-riot police from Kiboga central police station led by the O/C station Wafula Mario was forced to intervene and fired teargas to disperse demonstrators at Kajere Trading centre in Kibiga Sub County, Kiboga district.

The construction began last year as promised by the president during his campaigns, but hasn't made major headway.