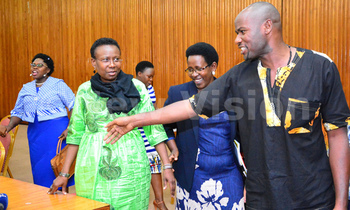 Jane Aceng (second left), Diana Atwine (centre) chat with Mbwatekamwa Gaffa, the MP for Kasambya County after they appeared before the health committee at Parliament yesterday. Photo by Miriam Namutebi
The heath minister Dr Jane Ruth Aceng yesterday told a parliamentary health committee that the sh29m given to Members of Parliament (MPs) to consult on the proposal to amend the Constitution sparked the ongoing industrial action by doctors.

Parliament released the money recently to allow countrywide consultations regarding amendment of article 102b of the Constitution to among other things remove the age limit for the presidency.

Dr Achieng, the state minister for primary health care Dr Joyce Kaducu ((Moyo District Woman MP) and health ministry Permanent Secretary Dr Diana Atwine appeared before the committee to explain the governments stand on the ongoing medics strike.

Aceng on Thursday told MPs on the parliamentary committee chaired by Dr Micheal Yiga Bukenya (Bukuya County) that in a meeting between the Government and doctors, the doctors insisted that if MPs can be given money urgently, then even doctors can be considered.

"We had convinced the doctors to wait for the salary review commission and the negotiations were moving on smoothly, but the final nail in the coffin was the release of the sh29m which some MPs have returned calling it a bribe," said Aceng

Dr Joyce Kaducu said: "The public thinks the Government has a lot of money, but the medical doctors salary increments is not considered as a priority,"

Aceng's view was supported by Serere woman MP Helen Adoa who said MPs should always be mindful of the public sentiments as they allocate themselves huge amounts of money in terms of salaries and allowances.

The strike, which the ministry yesterday called illegal, has paralysed health services in all public hospitals in the country.

The industrial action was declared on Monday by Uganda Medical Association (UMA) at their annual general assembly held at Makerere University College of Health Sciences in Mulago, Kampala.