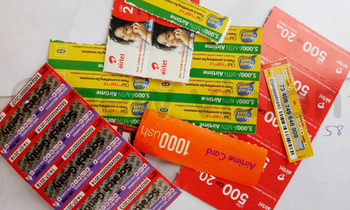 Subscribers of MTN Uganda recently woke up to price hikes by airtime vendors across the country. Instead of the usual sh500 and sh1000 for the airtime scratch cards, users were being asked to pay sh600 and sh1200 for the respective scratch cards respectively.
After a public uproar, MTN Uganda has since responded, saying the increments by the vendors are illegal.
The telecom giant is instead encouraging customers to recharge their airtime electronically—either through the EasyLoad option or off their mobile money accounts. In fact, there is even a 30% bonus on the value of airtime a client buys through EasyLoad.
So is MTN Uganda trying to get rid of airtime scratch cards?
When contacted, Justina Ntabgoba, MTN Uganda's corporate affairs senior manager was coy on whether the telecom giant is trying to gradually phase out scratch cards.
"It is not something we are thinking about in the short term. I cannot comment on that any further," she said.
She said the move by the telecom giant encouraging customers to recharge airtime electronically was as a result of vendors increasing of prices by retailers.
"We are responding to what is happening in the market by encouraging people to load airtime using easy load and mobile money. It is our consumers who matter the most," she said.
Telecoms likely caught off guard
MTN Uganda has not clearly come out to explain to the public why the prices have increased, preferring only to encourage clients to load airtime using mobile wallets.
Daniel Mwesigwa, a technology enthusiast says whilst the future of the economy is cashless, he suspects the telecom giant was caught off-guard with the move by airtime retailers in this particular case.
"Airtime is distributed by big dealers. So MTN may not have increased the prices for the dealers, but rather reduced on the markup that the dealers get. I suspect that these distributors got together, and quietly agreed to increase the price of airtime to the end consumers," he says.
"Yes, the future is digital, from government services to e-commerce, even telecoms, a lot of the things we are going to do in the future will be electronic. However, I think scratch cards will still be around for a while, especially in rural Uganda."
Mwesigwa's assertion has been vindicated by several airtime vendors. A one Posiano Musiime, an airtime vendor, took his frustrations on MTN Uganda's official Facebook page.
"We used to get a commission of (sh)400 for airtime bought worth (sh)10000.The commission has now reduced to (sh)200 and you want (us) no increase in the prices. The commission has reduced but the price of rent, food, electricity, transport has not reduced, in any case they are increasing," he vented.
In developed markets, airtime scratch cards are increasingly becoming something of the past.