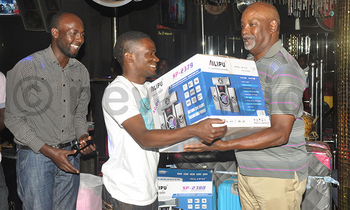 Uganda Golf Club member and golf enthusiast John Katto has advised caddies working at the various golf clubs in the country to raise their game and aim at becoming more than just being caddies.
Katto was speaking to the upcoming golfers at Nyondo Pub, Najjanankumbi during a prize ceremony following their one-day Castle Lite caddies tournament played at Kitante on Monday.
He urged them to maintain their discipline while caddying but also aim at playing the game up to a high level like most golfers who have come through having been caddies like them.
"Look at golf as a sport that has opportunities on the national team. If you work hard you can easily represent the country, so you need to support and raise each other games. Dream it, dare for it and get it, don't just be contended to just being a caddie," Katto advised.
Earlier, Entebbe Club's Bulhan Matovu had won the 36-hole, one-day competition with a net score of 145.
The 22-year-old, handicap 8 golfer sunk three birdies en-route to winning his second caddies competition in a space of two months. He had earlier also won the Entebbe caddies competition.
"The greens were good and my caddie guided me very well," Matovu said.
UGC's Joweria Namanda was the best in the ladies category with 67 nett. The tournament was sponsored by UGC, Castle Lite, John Katto and other members from the golfing fraternity.
Overall winner
Bulhan Matovu 145nett
Abdu Kakooza 147
David Kimbugwe 150
Group B
Ricky Kansiime 69
Good Luck 71
Simon Ali 72
Ladies
Joweria Namanda 67nett
Shamim Manino 68
Group A
Regina Nabalamba 74
Hadija Nampijja 77
Guest winners
Rodwell Gaita 69
Noah Waibi 75
Joseph Kasozi 76
Nearest to the pin
Resty Nalutaaya
Ismail Birigadde
Longest drive
Resty Nalutaaya
Joseph Kasozi