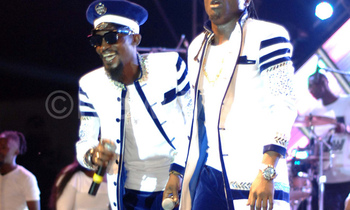 Ten years down the road as a boy-group is quite a milestone for Mowzey Radio and Weasel, a group perhaps that never gave many signs, when they broke through to the music scene in 2007, that they would last this long.
So, it was a deserved celebration on Friday with their fans when they held a #10yearsOfRAW concert at Kyadondo Rugby Grounds, Kampala.

It is always been hard for boy groups to last a decade in this millennium, that is why romour has whirled around for some time now that this event was to mark the last time Mowzey Radio (born Moses Nakintije Ssekibogo) and Weasel (born Douglas Mayanja) were performing as a duo.

That the two have been teetering on a split for some time now.

Still in the gossip mill, right? So let us wait just a little bit.
Revelers having a good time at the concert
The show went as planned, but we will not say it was packed to rafters at Kyadondo. Could that be public fatigue toward their music or is it that there was nothing much the duo has given their fans in recent years?

Organised by Balaam Marketing Agency and sponsored by Bell Lager in partnership with Vision Group among others, the show was teed off hurriedly, which was fine, considering opening acts here who include deejays, hype men and a host of upcoming artistes have a habit of to go beyond their limits and stretch concertgoers.

Opening musical acts such as King Saha, Gravity Omutujju, Rabadaba, Aziz Azion, Exodus, B2C and deejays Nimrod and Mercy did their part before Radio and Weasel took to stage at 9:55pm.


Weasel's mother (left) dancing to the Goodlyf performance
Dressed in white cruise ship officer's costume, the two started off energetically with their 2011 hit "Talk and Talk".

It was the perfect song, for its upbeat tempo, to fire up their fans that had waited long. Backed by UB5 band, the two singers then took fans through a medley of their hits like "Zuena" "Bread and Butter" "Nyambura" that drew nostalgia among fans.

Radio being the lead on most of their songs, and one with catchy lyrics and verses due to his smooth voice, kept Weasel in the background for the most part of the performance.
Although not the perfect live band performers, as witnessed on Friday, their stage performances were awesome. They engaged their crowd, teased them and laughed with them. And the crowd loved it.

The others that performed in between the duo's act included Pallaso and King Micheal and comedians Madrat/Chicco. The BET Music Awards nominees sealed the night minutes into midnight.