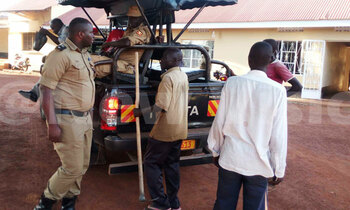 CRIME | LIRA
Eight people have been killed in the Bar sub-county in Lira district in a string of violent murders that have left the area security and leadership worried.

One of those killed is a Uganda People's Defence Forces sergeant.
The Resident District Commissioner (RDC) of Lira, Robert Abak, said the area youth are always gambling, betting, drinking alcohol and smoking opium, which could explain why murders have become rampant in the area.

Abak narrated that on October 18, one Molly Aguti, 57, was allegedly killed by her son Andrew Ekwang.

He said Ekwang had attempted to kill his grandmother and was jailed for it, but after his release, he attacked his mother and killed her.
A case which shocked security, Abak said, is the murder on October 26, of a UPDF soldier Sgt Benson Okidi, attached to 27 battalion at Kayunga barracks. He said Okidi was home on pass leave when he was allegedly killed by his son-in-law.
Abak said Okidi's son-in-law Geoffrey Okedi followed his wife (Okidi's daughter) to their home, armed with a knife. There was a quarrel and a scuffle ensued. Okedi then stubbed the soldier, killing him before he himself was lynched by angry residents.
The other case happened on October 30 where Geoffrey Akodo, 38, was killed by his mother identified as Roseline Alwoch, 70. Alwoch has been arrested and is being held at Lira CPS pending prosecution.
The RDC said Okodo had finished his jail term after he killed his father and on release, he went and attacked his mother, who ended up killing him in self defence.
"My office has teamed up with the Police on community policing in the area to avert future such crimes," Abak said.
"If we don't handle this very fast, I think Bar will become a mortuary in Lira, it is a serious matter," he added.
The Lira District Police Commander Joel Tubanone said they are trying to educate the community not to take the law in their hands, but they do not listen.

"We have more murders than ever, which are mostly a result of family conflicts, domestic violence and land conflicts," he said.
Tubanone said the latest incident happened when a man identified as Geoffrey Odur hit a mother with a hand hoe and he was also killed by the woman's sons. The woman was rushed to Bar Community Clinic at Bar trading centre for treatment in serious condition.
He said by the time the Police reached the scene, the suspects were about to set the body of the man on fire.
Eunice Amuge a former female youth councilor of Bar sub county said the woman identified as Grace Opio was rushed to the clinic in serious condition with large wound on her forehead.
Other cases
- On October 21, one Alex Anam, 49, was allegedly killed by Bonny Ongom and Denis Otto. The case is registered under reference number CRB330/2017.
- On October 24, mob killed one Gilbert Olugu suspected of being a thief and case registered under CRB3388/2017
- Another case is the murder of Tony Alal, 23, a resident of Otono village that took place on October 26, registered under CRB3416/2017.