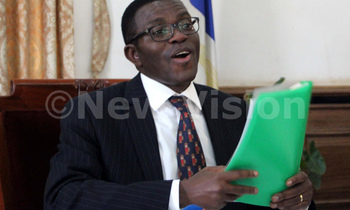 Katikkiro addressing the press on the local council elections at Bulange Mengo. Photo by Jeff Andrew Lule
The Katikkiro Peter Charles Mayiga has asked Ugandans to only vote for worthy candidates in the local council elections.
Mayiga said it is the voters to decide the kind of leaders of leaders they want, stressing that they should also consider the implication of voting for incompetent people.

"Election of LC1 leaders is important in solving our problems. That is why we need reliable and effective leadership in various villages," he added.

Mayiga who was addressing journalists at his office at Bulange Mengo, stressed that a lot of problems ranging from land conflicts, theft of crops and animals, murder, abuse of drugs and alcohol are on the rise due to lack of functional local council structures.

Uganda is preparing to vote for LCs on November 21.

He asked voters to be bold and line behind up competent leaders with clean records in their areas.

"There is nothing to worry about. It is about lining behind the worthy candidates who will serve your interests. They should be competent enough to handle your problems," he noted.

Mayiga also cautioned people against taking bribes from prospective candidates and asked worthy candidates to offer themselves for leadership.