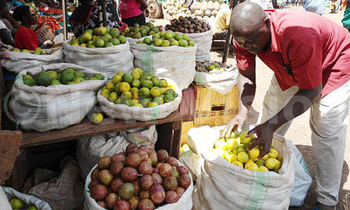 Food crops inflation has declined to 7.8%
Ugandans alarmed at the rising commodities prices can afford a sigh of relief after a new report showed prices are now coming down.
The report released by Uganda Bureau of Statistics (UBOs) today shows that headline inflation has marginally dropped from 5.3% in September to 4.8% in October, giving hope that the economy could be on the way to recovery.
Officials revealed that the drop was largely helped by falling food prices following bumper harvests in some parts of the country.
Releasing the results today, Ben Paul Mungyereza revealed that food crops inflation declined to 7.8% in October 2017 as compared to 9.6% in September.
Fruits inflation dropped to 9.7% the UBOs report said. On the other hand, however, energy, fuels and utilities (EFU) Inflation increased to 14.1% in October as compared to 10.6% in September.

Other Goods inflation also increased to 4.3% in October compared to 4.2% recorded in September.

By region, Fort Portal registered the highest Annual inflation of 8.1%, followed by Gulu at 7% and third was Arua standing at 6.7%
Experts say inflation is a threat to the economy as it stifles economic growth, and it can cause a rise in prevailing interest rates. Long term investors also dread it as it erodes the value of future products.