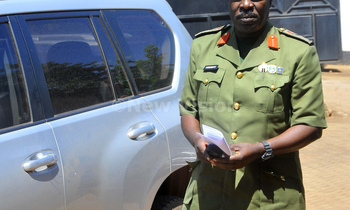 Col. Patrick Mwesigye arriving at the Uganda Media Centre in Kampala. Photo by Wilfred Sanya
The National Secretariat for Patriotism Corps (NSPC) on Thursday announced plans to induct over 3,000 technical college students.
The students, according to the commissioner NSPC in the office of the President, Col. Patrick Mwesigye, these would join a force of 6,000 already equipped with patriotism ideologies over a period of two years.

Addressing journalists at the Uganda Media Centre in Kampala, Mwesigye said the trainings to take place in five national technical colleges would last for seven days beginning on Friday up to November 2.

The selected colleges are Lira, Bushenyi, Kyema in Masindi district, Elgon in Mbale district and Kichwamba in Kabarole district.

"We have been organising these trainings since 2015 and the purpose of these trainings is to impart ideological knowledge and a sense of national consciousness in this upcoming workforce, which will be a fulcrum in our transformation process as we focus on Vision 2040," he said.

The NSPC is a presidential initiative launched by President Yoweri Museveni in 2009 with the ultimate goal being to produce a new breed of an enlightened population committed and devoted to national cause and have the love for the country.

"The students will be taken through a number of practical topics including patriotism for nation building and social transformation, role modeling and inspiring students, patriotic discipline and methods of work and leadership skills and leadership development", he said.

Mwesigye said, "It was our responsibility to deepen their understanding by equipping them with better tools of creativeness, analysis and critical thinking skills."