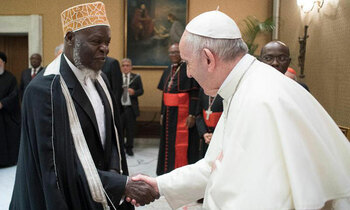 MUBAJJE | POPE FRANCIS

The Mufti of Uganda, Sheikh Shaban Mubaje, has commended Pope Francis for his strong condemnation of the persecution of Muslims in countries like Burma, Central African Republic and Palestine.
"No one should be targeted for holding a different opinion or belonging to a particular religion because in the eyes of the Creator, we are equal," Mubaje said.
The Mufti was one of the 17 executive committee members of Religions for Peace International, who met Pope Francis recently at the Vatican in Rome.
Religions for Peace is based in New York and is the largest international coalition of representatives from the world's religions dedicated to promoting peace.
Pope's message
The statement issued by Uganda Muslim Supreme Council (UMSC) spokesperson, Haji Nsereko Mutumba, on Wednesday, said Pope Francis welcomed the delegation and commended them for working for peace with their hearts, minds and hands.
"I express my esteem and appreciation for the work of 'Religions for Peace'. You provide a valuable service to both religion and peace, for religions are bound by their very nature to promote peace through justice, fraternity, disarmament and care for creation," the Pope said.
The Pope was impressed by the impact of inter religious cooperation around the world, said the statement.
"Let us continue along this path. We trust in the Almighty's help and in the good will of believers and so many others," he implored.
Why they traveled
The members of the delegation which was led by Dr. William Vendley, the secretary general of Religions for Peace International, traveled to the Vatican to express their support towards the Pope's peace initiatives around the world.
Prior to meeting the Pope, the Mufti attended two international conferences in Cairo Egypt. The first one was organised by the Grand Mufti of Cairo Sheikh Shauki Alam on October 16.
The statement said it brought together Muftis from different countries under the house of Fatwa Worldwide.
The second conference was held on October 17 in Cairo during which the Muftis discussed the need to educate Muslims about Fatwa.
Mubaje said all the meetings came up with strong resolutions aimed at promoting peace and dialogue among Muslims, and between Muslims and members of other faiths.
He returned on Tuesday from "this long working trip" and was received by a delegation of UMSC senior management officials led by the Deputy Mufti Sheikh Abdallah Semambo.