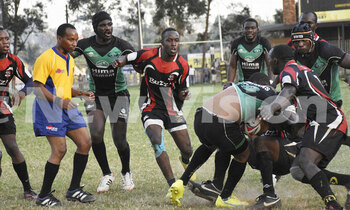 SPORTS | RUGBY
Quarter final fixtures
At Legends:
Rhinos v Kobs, 4:00pm
Pirates v Hippos, 2:00pm
At Kyadondo
Heathen's v Warriors, 4:00pm
Buffaloes v Mongers, 2:00pm
Rugby referees Ramsey Olinga, Sauda Adhiru, David Kirabira and Collins Mulindwa aka Kerekere, will take charge of Uganda rugby cup Quarter-finals on Saturday.
Female referee Adhiru will be in charge of the highly billed fixture between Shell Rimula Rhinos and Betway Kobs at legends rugby Club, while Olinga who is also URU CEO will handle another grudge game between Toyota Buffaloes and Plascon Mongers.
Olinga returns to officiation after a long time of rest after being involved in both the Rugby Cranes 15s aside engagement in the Africa Cup and the Rugby Cranes 7s aside qualifiers for the World Cup.
This worries both players and fans bout his fitness levels to handle such agame of high level of tension.
"I know it is going to be a tough game but we shall our best to control it," Olinga stated.
Kirabira will be the centre referee of between Hima Cement Heathens and Warriors while Comedian Collins Mulindwa popularly known as Kerekere will be in charge of the Buzz Pirates and Jinja Hippos.
Meanwhile Kobs will be without their stars Justin Kimono, Ramathan Govule, Joseph Aredo and team Captain Oscar Kalyango.
Kalyango and Kimono underwent surgeries and are out of action till next year, Aredo joined Kenya side Harlequins while Ramathan Govule vanished in Germany after the Oktober7s festival early this month.
At Kyadondo Hima Cement Heathens host Warriors at 4pm but before that Toyota Buffaloes will renew their long time rivalry with Plascon Mongers at 2pm at the same venue.