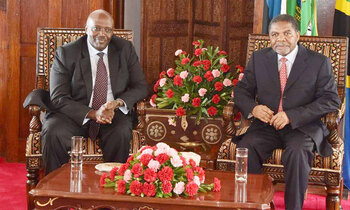 Uganda's High Commissioner to Tanzania, Ambassador Richard Kabonero, has held talks with Dr Ali Mohamed Shein, the President of Zanzibar.
The meeting took place on Tuesday at State House, Zanzibar .
"I paid a courtesy call on Dr Muhamed Shein. We discussed a number of issues, including exchange of English and Swahili teachers, air service links between Entebbe and Abdi Karume Airport in Zanzibar, and tourism," said Kaboreno.