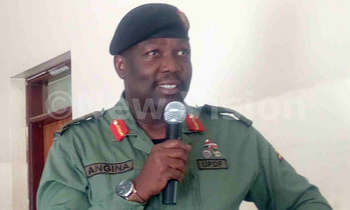 Youth have been advised to embrace agriculture in the fight against poverty.

The call was made by Lt. Gen. Charles Angina, the deputy national co-ordinator of Operation Wealth Creation (OWC)

"Some youth want to make easy and quick money in white color jobs, others think of selling their ancestor's land to buy bodabodas. Embrace agriculture to generate wealth," Angina advised.

Gen. Angina told the student leaders to utilise the idle land of their ancestors to engage in commercial agriculture and avoid helplessly lamenting about unemployment.

OWC is an intervention that President Museveni launched in July 2013 to create a system that facilitates effective national socio-economic transformation with a focus on raising household incomes for poverty eradication and sustainable wealth creation.

Under the OWC, officers from the (UPDF) were deployed in all districts of Uganda to monitor and foresee the wealth creation programme that has in the past two years put emphasis on cash crops that among others include coffee, tea, cocoa, onions.

Angina was recently speaking at a 4-day conference organised by Uganda National Students' Association (UNSA) at Shimoni Primary Teachers College in Kira, Wakiso district.

Over 300 student leaders including secondary, tertiary and university across the country have been camped at Shimoni for structures performance review conference.

Angina explained "If one planted one acre of onions and you nurtured it so well, it will give you sh20m within four months.
"Then you can now buy your bodaboda and employ skilled riders and embrace Savings and credit Cooperative Societies (SACCOS) to make more money,"