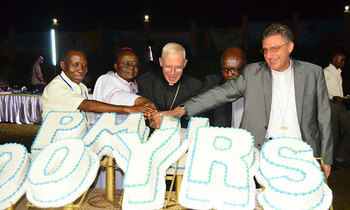 The Archbishop of Kampala Archdiocese, Dr Cyprian Kizito Lwanga has hailed the Pontifical Mission Societies Department of the Uganda Episcopal Conference for organizing a successful Missionary Congress.

The 4-day convention at Pope Paul Memorial Hotel, Rubaga (near Kampala), was organized to commemorate 100 years of Pontifical Missionary Union and 50 years of Ad Gentes (Latin for to the nations).

Pontifical Missionary Union is one of the Papal societies that promote missionary awareness and cooperation in the Catholic Church. Ad Gentes is the document of the Second Vatican Council, which directs the missionary activity of the Church.

Speaking during the closure of the congress, Lwanga said: "We thank God for this convention, which is the first one of its kind in Uganda. Our prayer is that you implement the basic objective of the convention, which is the renewal of our missionary commitment."

The Apostolic Nuncio to Uganda, Archbishop Michael August Blume also asked the agents of evangelization to adopt an outreach evangelistic strategy, to be able to take the Gospel of Jesus to people who don't go to the Church.

The Executive Secretary for Social Communications at the Uganda Catholic Secretariat, Fr Phillip Odii advised the Church's pastoral agents to take advantage of the mass media, to be able to minister beyond the confinements of their churches.

The mass for the closure of the Congress was animated by a choir of seminarians from St Mbaaga's Major Seminary, Ggaba.