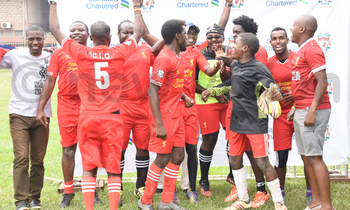 UG-COP 1 (3) Standard Chartered 1 (2)
USPA 0 Standard Chartered 2
USPA 1 UG-COP 3
The acting Standard Chartered bank CEO Kelvin Musana has pledged the bank's commitment to using sports in eradicating avoidable blindness.
Musana disclosed this in his speech as he appreciated the bank's clients and USPA members who turned up for the Liverpool vs Manchester United pre-match tournament at Legends Rugby Club in Lugogo.
"I am inspired by the amazing support that the 'Seeing is Believing' project continues to receive and we as Standard Chartered Bank we are committed to support it," Musana stated.
"We shall continue to use sports and sports media platforms to eradicate avoidable blindness because sports is a mobilising tool," Musana stressed.
Over 12000 Ugandans' sight has been restored since 2003 and the bank together with its partners have injected $1m (sh3.6b) in the Mubende project that will run to June 2020 focusing on children and adults in the district.
Last year in partnership with Sight Savers Uganda and UK Aid the bank donated an assortment of eye equipment that benefited regional hospitals in Jinja, Soroti, Gulu, Arua, Fort Portal and Lira.
Bank of Uganda finished top in chess and darts, second in volleyball and table tennis and still await Stanbic Bank in the postponed netball final which will be played on the final day.
Usual suspects Centenary Bank crashed out of the pool contest in unexpected terms with Pride Microfinance's star man Justus Ndaaga stunning his rivals including Allan Kamukama of Housing Finance Bank in a nervy final.
Elijah Njawuzi the team captain of the UG-COP side that won the viewing party tournament lauded the bank for the gesture and urged others to emulate.
"We are excited to win this tournament, but most important is the Stanchart initiative to eliminate avoidable blindness in the country," Njawuzi stated.
UG-Cop defeated USPA 3-1 and drew 1-1 with Stanchart in normal time before winning the tournament 3-2 in penalty shoot outs.