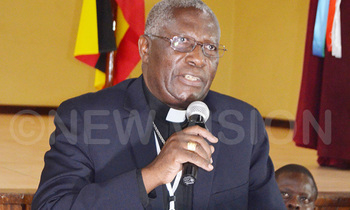 The Bishop of Kiyinda-Mityana Catholic diocese, Prof Joseph Antony Zziwa has lashed out at self-styled evangelical preachers who glorify themselves instead of preaching the saving gospel of Jesus.

"Today we have the big temptation of self-proclamation. People present themselves as miracle workers. Nobody should claim to be a miracle worker. It is God who gives the power to work miracles. Such people have taken advantage of the naïve and needy Christians who are desperate for miracles to amass wealth for themselves. It is a pity. Why don't they go to Mulago and heal those patients who are suffering out there?"

Prof Zziwa was addressing the Catholic Missionary Congress at Pope Paul Memorial Hotel, Rubaga on Wednesday.

The Prelate later called on all Catholics to be more conscious of their missionary obligation. He asked the agents of evangelization to adopt effective strategies, like the method of Small Christian Communities, to preach the gospel widely and effectively.

Zziwa also asked the ministers of the gospel to plan their pastoral activities. He lamented problems like political instability and poverty, which he said made pastoral activities very difficult and made many parishes to close their financial years with huge debts.

Zziwa later asked the priests and laity to take advantage of African traditional values like solidarity and hospitality to preach the gospel. He finally asked them to live out the Christian values they preached.