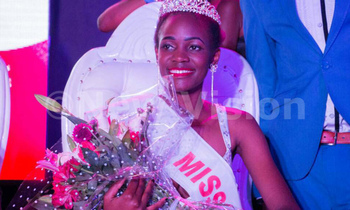 Gloria Nawanyaga after being crowned Miss Y+. Photo by Elvis Basudde
The greatest event to have happened in Kampala last weekend was the grand finale beauty pageant for young people living with HIV.
Eighteen HIV positive finalists, mainly students, gyrated their way down the catwalks at Hotel Africana as a way of reducing stigma and enhancing advocacy for pragmatic action in the fight against the scourge.

The wild yells that followed Grolia Nawanyaga and Huzairu Nyanzi's crowning as Miss Y+ and Mr Y+ beauty pageant (2017/18) respectively confirmed the revelers' approbation. The judges had made an unquestionable choice.

The 21-year-old Nawanyaga, a second year student at Uganda Christian University, Kampala campus, pursuing law, is indeed beautiful.
She is also exceptionally intelligent judging by the way she "chewed" a question-and-answer session. Her stage presence also charmed many.

Nyanzi, 22, is pursuing a diploma in public accountancy at Bethel Business Institute, Jinja and is also volunteering at St. Francis Health Care Services, Mbiko.
While crowning the winners, Phionah Bizzu, a former 2013 Miss Uganda, hailed them as "real fighters."

This was the 4th annual Y+ (young positives) organised under the theme: Hands UP for HIV Prevention, aimed at fighting stigma and discrimination among young people living and affected with HIV.
The pageant, which attracted young men and women between the ages of 16-25, was organised by the Uganda Network of Young People Living with HIV/AIDS (UNYPA).

Nawanyaga said she did not expect to win because the competition, but was also quick to add that her attribute was confidence.
"Judges considered a lot of things, confidence, talent, expression and brains, so I tried to work on those attributes," she said.

Asked why she took part in the Y+ beauty pageant, Nawanyaga said she wanted to de-stigmatise the community about HIV/AIDS.
She said she was personally a victim of stigma and discrimination, and she wanted to fight for the rights of young people who are facing stigma, using her profession as a lawyer.

"I am going to sensitise people about the fight against stigma and discrimination, and I believe I can transform lives especially of the young people living with HIV by showing them that they can be stigma free, since I had something related to this in the past," she said.

She promises to use all means including social media, vising schools and institutions and corporate organizations and sensitize them more about HIV and tell them how they can protect themselves for those who are negative and for the positives to continue living positively but adhere ring to their medication.

Nawanyaga was born with the HIV virus and her victory has won her a one-year scholarship to complete her education. She said the scholarship was timely because she lost her father just two weeks ago.
Nyanzi was also born with the virus, but unfortunately he did not see his father because he was barely two weeks old when his father succumbed to AIDS. Her mother died when he was seven years old, also succumbing to AIDS.

He says he has been doing advocacy at the grassroots, talking to students and giving them his testimony on living with HIV. He was delighted to take part in the Y+ beauty pageant because it would be a bigger platform for him to move to a higher level which has been his dream.

He confesses that St Francis helped him to discover his talent as a performing artist, majoring in cultural performances through a youth group called Shadow Idol, which mentors youth through music, dance and drama and life skills and issues to do with HIV/AIDS.

Rtd Maj. Rubaramira Ruranga who attended the pageant, hailed the young people living with HIV for openly coming out to give HIV a face, especially among their fellow young people.

"I hail your courage to use your real names (not fictitious names) and show your faces without putting on a mask. You are real heroes. Do not feel intimidated and shy about who you are. That is the way to go if we have to defeat the scourge," he said.

Rubaramira said he is 34 years old with HIV after acquiring it when he was 36 years old and he is a few months to 70. He told them they will grow and become like him and even have children.

"None of my six children is infected with HIV and their mother does not live with HIV," he said