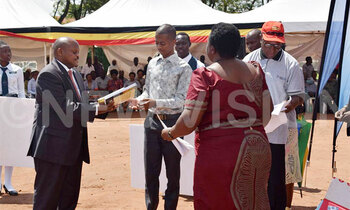 Ugandans have been asked to work towards achieving descent and quality housing to better their lives especially those in areas affected by bad weather.

The call was made by the state minister for urban development, Isaac Musumba.

Speaking at the world habitat day in Mbale cricket grounds. Musumba said national housing policy has relevant strategies that are designed to increase the supply of affordable housing for all, improve the quality of housing and settlements and above all increase affordability of the low income earners to access affordable housing.

He said that any investment in housing has an immediate impact on towns and creates a profound influence on people's lives.

"For the past years, the private sector and individual households have made a significant contribution to the housing sector, but although they have met some challenges, a lot still needs to be done," he said.

He cited some of the challenges as high cost of land, infrastructure and high interest rates.

Musumba said rural housing and settlement development program should be done and these should involve planning of rural areas to designate nucleated settlement areas to free the land for large scale agricultural farming.

"Also the communities should be organized to form cooperatives as the vehicle for agriculture commercialization, agro-processing and affordable housing development," he advised.

He noted that slums and informal settlements redevelopment program should be done to mobilize slum dwellers into saving groups which will be encouraged to form formal business enterprises for job creation to benefit the members and form housing cooperatives for housing development.

Brenda Mayiga, the communications manager Habitat for Humanity said that this year's theme was housing policies, affordable homes.

Mayiga noted that Ugandans should not sit back and wait for others to provide shelter but they should rather involve themselves in income generating activities that can give them income to invest in good housing.

"Even when you don't have enough income, you can easily get help from the different companies that help settle people," she notes.