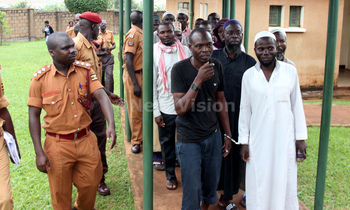 The 23 people accused of killing former Police spokesperson, Andrew Felix Kaweesi, have been further remanded without knowing the status of the investigations in their case due to the current strike by state prosecutors.

At about 10:30am the accused were produced before Nakawa Grade one Magistrate Noah Sajjabi who informed them that state prosecutors had gone on strike.

"We do not have a state attorney in court. I have been informed that they are on a sit down strike. Therefore, you are remanded until October 24," Ssajjabi said.

The case

Prosecution alleges that the suspects and others still at large on March 17, conspired to murder Kaweesi, his body guard Kenneth Erau and driver Godfrey Mambewa.

It also alleges that the accused and others still at large with intent to influence government and intimidate the public for social, economic, and political gains involved themselves in the acts of terrorism.

Prosecution further alleges that the accused also used a gun or any other weapon and robbed Erau of a rifle SMG and a pistol.

It is further stated that the accused rendered support to Bruhan Balyejusa, Jimmy Ogutu and Noordin alias Taata Abudal-razak in executing terrorism.