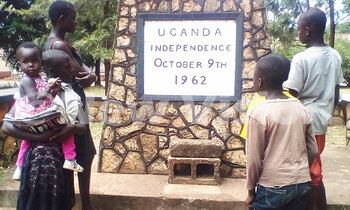 INDEPENDENCE DAY | MOROTO

Today marks 55 years since Uganda attained her independence, but for Karamoja region, the Moroto monument built by the colonialists at the time Karamoja was a district remains a living testimony between the past and the present.

What stands in front of the Moroto district hall besides the fence is a concrete monument constructed in the 1962, when Karamoja district lowered the Union Jack and raised the current Uganda flag after decades of colonial era.

Names of Karamoja local leaders who have since passed on are engraved on the monument. The facility is a site of Britain agents and chiefs in arms, as well as the game guards still remembered in the region.

Endorsed in memory are some of the officers and chiefs who surrendered their lives in service of Karamoja district.

-Capt. Kirk Patrick and seven soldiers of the MacDonald expedition into the present Abim district Nyakwae area in 1898.

-Officers and men of Kenya African Rifles in Turkana area 1911 - 1938.

Some of the local chiefs included Ekapolon Lokong, who was killed by the locals in Akwapuwa for aiding the British in 1911.

Others are Ekapolon Achia a Nabilatuk chief in 1923 (the current Nakapiripirit district). Mukungu Longelech was chief in the current Panyangara sub-county in Kotido district.

The government agents included Lorika from Namaworothing, who ruled around 1953 and Ekapolon Nangiro.

Others were Corporal Lorion, who was an agent in Cholol in 1959 and ASP Weeding, who helped spread British rule in Morungole (current Kaabong district).

Others include, Janait Pedo was in charge of Lokere in 1961 and Zefania Akamu who was in charge of the current Kalosarik area on the district boundaries of Kotido, Moroto and Napak grazing area.

Game reserve guards who were recognized in 1959 were Morunyang and Talip Attia.

However, after more than half a century later, leaders and residents still have a strong mind-set that the monument should be given strong recognition.

Andrew Napaja, the district chairperson of Moroto, said they still look forward to the day the monument will be honoured.

There's need for the site to be re-visited annually during the time of our independence," he said.