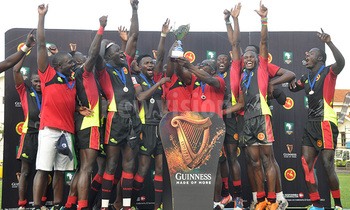 Final

Uganda 10-7 Zimbabwe

Many could have predicted the score, but very few imagined that the Rugby Africa Sevens could end 10-7 to Uganda against Zimbabwe.

After enjoying a brilliant weekend, incident-free Uganda met their match in the cheetahs of Zimbabwe in the finals.
Ugandan players celebrate
The Zimbabweans applied a physical and feisty approach to the game and it paid dividends because it took some inspired and determined play from Uganda to win.

So intense was the occasion that an infringement by Puis Ogena saw Zimbabwe take an early lead by way of a penalty try.
After they registered points on board, the Cheetah's looked like they were going to be the sting in Uganda's tale for the better part of the first 10 minutes of the match.

An inspirational try by James Odong set the crowd up for a tense finish after Phillip Wokorach failed to convert. However, the boys from Zimbabwe were resolute in their defence and hard a choke-hold on Uganda's defence.
With seconds left to spare, Adrian Kasiito's darting and inspiration break preceded some brilliant passes between Phillip Wokorach, James Ijongat and Michael Okorach who hustled the ball made that moment possible.
The last minute try did a few things; it brought the crowds emotions from 0 to 360 in flash. Those that had prepared to be happy for only a sport at Rugby World Sevens Cup 2018, now have the Common Wealth Games and the 2107/18 HSBC World Rugby Sevens Circuit to contend with.
Adrian kasiito was not lost on the magnitude of the event and the Betway Kobs player spoke strongly about it.

"Stuff like this is the reason why people now recognise our country," he said.
The cheetahs
The hero of the day could barely say more, but the unhinged dancing and jubilation by most of the team said it all as the sun went down at Legends Rugby Ground.