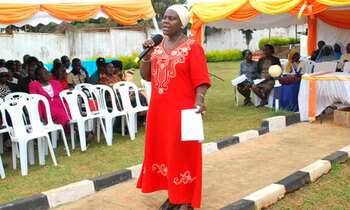 The teachers who turned up for the World Teacher's Day celebrations in Mpigi have asked the woman Member of Parliament for Mpigi district Sarah Nakawunde not to support the amendment of article 102[b] of the constitution that was tabled in parliament by the Igara West MP Raphael Magezi.

The MP who had turned up for the district teacher's day celebrations held at Buddu Gardens on Thursday was asked by the teachers to explain her stand on the bill which seeks to scrap off the age limits for people with ambitions to stand for president.

"I know you want to know my stand on the proposed amendment of article 102[b] of the constitution to remove age limit, but I would like to inform you that the bill was forwarded in the rules committee of parliament and I will come back to you to seek your views about this bill," Nakawunde said.

The teachers who seemed not to be satisfied with her explanation did not allow her to finish and immediately booed at her saying "togikwatako" which means do not touch article 102b.

The chairperson UNATU for Mpigi, district Barbra Kasule called upon the teachers to love their jobs and work hard if they want promotions in their respective schools.

Deogratious Ssekyole, the district education officer pledged to work with the teachers' association and all teachers in the district to transform Mpigi district.

He said teachers are important people in service delivery in the district and that is why there is need for the district leadership to bring them on board.