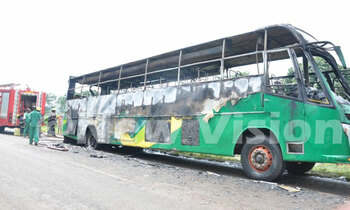 PIC: Police's fire brigade putting out the fire (Credit: Luke Kagiri)

Transport on the Kampala to Mubende was today parlayed for over three hours, after a bus carrying passengers from Kampala to Kasese caught fire, in the middle of the highway.

The Link bus registration number UAM 610 T is said to have got a tyre burst at Kigalama trading centre, about 10km from Mityana, but the driver continued. It later caused the fire.

On board were over sixty passengers, some traveling with merchandise to Fort Portal and Kasese.

Passengers said before the fire started, their was a lot of smoke, so the driver stopped and told them to exit the bus.


"We tried to use soil to stop the fire but it kept spreading. Some people collected water from nearby homes, but the flames grew bolder," one passenger said.

The police arrived a few minutes later with the fire brigade and stopped the fire.

District police commander Emmaunel Mafundo said no passenger was injured, as all of them managed to get out before the fire spread.

He castigated Link operators for not keeping a fire extinguisher in the bus.

Link Bus Company provided another bus for the passengers.