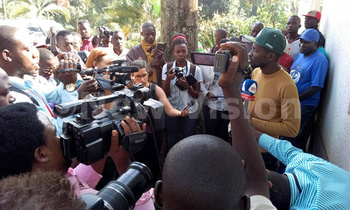 MP Kyagulanyi talks to reporters at his home. Photo by Ashraf Kasirye

Unknown people last night threw 'explosives' at Opposition MPs' homes. The affected MPs are Robert Kyagulanyi (Kyadondo East) and Allan Ssewayana (Makindye Wast).

The same occurred to Rubaga North MP's home Moses Kasibante's last week.

"These threats have thrown a wave of fear in my family but I'm personally not moved by these threats," Kyagulanyi, aka Bobi Wine a popular musician who turned a politician said.

According to Kyagulanyi, "the three explosive devices were handmade grenades and this follow several death threats. The explosives were thrown near my son's bedroom."
A damaged window at Kyagulanyi's home.


Government spokesperson, Ofwono Opondo, described the incidents as tactics to frame the government.

"Flash grenades at opposition MPs' homes could be own scare tactics to frame government. There is no record or history of this NRM government killing political opposition," Opondo said.
Kyagulanyi, Ssewanyana and Kasibante are among the 24 opposition MPs who were suspended from Parliament following chaos that mar the presentation of the age limit motion in Parliament last week.
Ssewanyana at his home. Photo by Meddie Musisi


President Yoweri Museveni has lashed out at the Opposition protesting over the tabling of the motion. "I will not allow them to block a legal process," Museveni said.