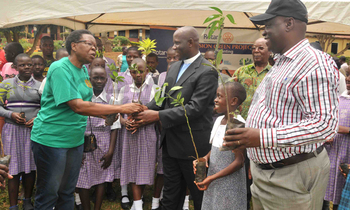 Mukono Resident District Commissioner (RDC) Maj. David Matovu has urged religious and cultural leaders to passionately embrace the campaign of tree planting saying it is one of the safe ways of protecting chunks of land from encroachers.
Matovu said religious and cultural leaders are always flocking his office and the courts of law battling cases of encroachers saying if they had planted trees on that land it wouldn't have been encroached on.
Matovu made the remarks on Saturday during the launch of the tree planting campaign between the Rotary Club of Kampala-Impala and schools under the Mukono diocese stewardship.
The launch was conducted at Mukono Bishop East and Bishop West primary schools in Mukono Municipality.
Matovu noted that many church founded schools have lost their land to encroachers as a result of their custodians' redundancy to make use of that land.
"Planting trees on the idle land has a lot of advantages. Those trees will be a source of firewood, timber, fruits among other benefits," he said.
He said that if all schools which have land embrace the tree planting campaign, the challenge of long drought which has affected almost all the districts of Uganda would be sorted in a few years to come.
The former Minister of Agriculture and the chairperson Uganda Agribusiness Alliance, Victoria Sekitoleko urged fellow Ugandans to start planting trees as a business saying it will save the environment which is so exploited by mushrooming factories and other human activities.
"As a grandmother, I have seen tree planting as the most treasured thing a person can do to the future of our country. People are crying of the prolonged drought, firewood and water scarcity forgetting that the solution for all those is in tree planting," she advised.
Sekitoleko who is also the charter president for the Rotary Club of Kampala-Impala urged parents and schools to always educate children on the advantages of planting trees and help them to plant their own trees as children.
Dr. Jennifer Namusobya, the Rotary Club president for Kampala-Impala said that under the Mission Green campaign, they are to plant not less than 50,000 trees at schools in Mukono diocese.
Namusobya said they are planting both fruit and timber trees according to the available land for the particular school.