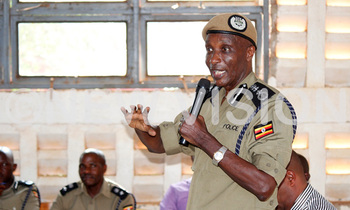 CRIME|POLICING

As the Police force gears up to celebrate the community policing week slated for October 3, 2017 at the Nkumba University play grounds, IGP Kale Kayihura paid a courtesy visit to Nkumba University on Thursday evening where he tipped the students on community policing and personal security following the rampant murders of women in Katabi Town Council.

In his address, Kayihura indicated that community policing entails offering preventive measures to security challenges in the community rather than being offensive.

"With community policing, I expect police officers, look-out teams and crime preventers to be based in the communities; identifying security challenges and solving them but not sitting at the stations," urged Kayihura.

He went ahead to reveal, "Through community policing, we also build partnerships for problem solving and we are also enhancing operational policing through the Mayumbakumi, lookout teams, motorcycle police patrols and call centres."

On the rampant murders of women, the police boss disclosed that out of the 26 arrested suspects, 13 have been produced in court and remanded on murder, aggravated robbery and terrorism charges.

"Our investigations indicate that the murders of women rotate around crimes of passion, domestic violence and organized crime. The lack of forensic capacity has derailed our investigations which would help in linking the suspects to the scenes of crime using the evidence we have obtained from the scenes," Kayihura said.

Meanwhile, Kayihura noted that Katabi Town Council harbours over 100 shrines with some witch doctors masquerading as traditional healers and engaging in crime.